Blog Entry
Lola "The Beautiful Side of a Fantasy"
Written by MJP on January 12, 2010
Location: Los Angeles
Medium: Acrylic on Masonite Panel
Lola's work is inspired by her little girls.  She paints these tiny creatures in these whimsical worlds.  Her work space is clean, the brushes are neatly placed on a table.  She has  pictures of her grandmother and daughters on a book case with other dolls and small plastic toys.  Lola's easel sits next to a window so she can be swept away in a day dream if she gets stuck at a point in the painting.  When talking about music in reference to creating her art, she admits its impossible for her to not have music involved in her creative process.
Lola is busy these days working on a solo show opening this spring.  We asked how many hours per day does she spend on a painting she said  it can be 15 hour days as it gets closer.  There was a painting she was still working on that she started about 6 months ago.  Getting ready for a solo exhibition is no easy task.  To find out more about the show opening in March titled Ipsum Factum visit her website for details.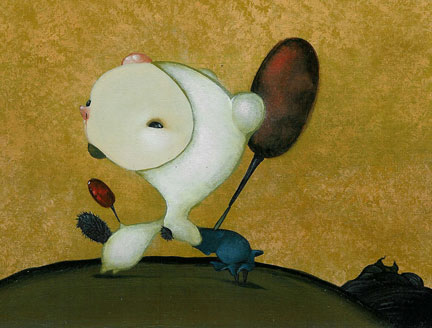 Comments (1)
No Commments
No one has left a comment so far.
Add Comment
Add comment
You need to be logged in to do this
You will need a Dipdive account and you will need to be
logged in to use this function. An account is free, let's create one right now!